Outline of the company
日本語版
Name
The NIKKAN KENSETSU-KOGYO SHIMBUN,LTD.
(The Daily Engineering & Construction News)
Head Office
2-2-10 Higashi-Shimbashi Minato-ku Tokyo, Japan 105-0021
TEL/03(3433)7151 FAX/03(3437)4828
Established
October 15th , 1928
Capital
20,000,000 JPN
Business
Publishing of daily newspaper, magazines, books/Sponsoring seminars and symposiums
Number of employees
120
Format
Daily (except for Sat, Sun, Holidays)
Blanket(Broadsheet) 10pages
Main Banks
Sumitomo Mitsui Banking Corp.
Bank of Mitsubishi UFJ
Mizuho Bank etc.
Affiliated
Japan Specialized Newspaper Association
The Tokyo Chamber of Commerce and Industry etc.
Special contract of news
Jiji Press
On-line News Delivery
EL-NET, NIKKEI TELECOM21, Factiva,
G-search, Scala Communications, NEWSmart etc.
Message from the President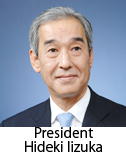 Since its start in 1928, the Daily Engineering & Construction News has closely worked with the construction industry in Japan. We have dedicated ourselves to reporting news as the nationwide trade paper in the industry for many years.
The construction industry plays an important role to secure people's livelihoods and to maintain the global environment. We, as a company's mission, are determined to support the construction industry's development to become a key industry in the nation.
Keeping steps with rapidly changing information society which has seen increased amount of information and diversification of the media, The Daily Engineering & Construction News continues to deliver quick and accurate news from a perspective of professionals.
I would like to pledge that we make every effort to become a media center specialized in the construction industry by full use of acquired knowledge and skills over the years and our expanding global network.